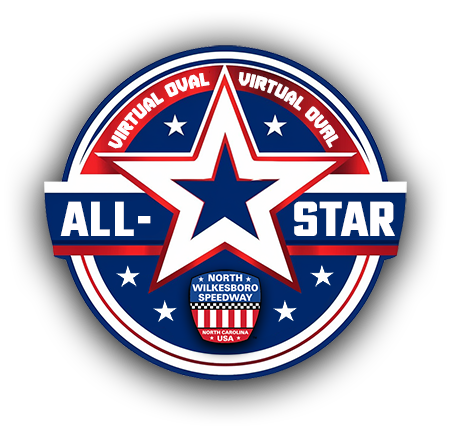 Raceformat:
Practice: 19:00 cet
Race: 20:30 cet
Length: 89 Laps
Tire Set Limit: 4
-Stage 1: end at Lap 30
->Admin Caution
-Stage 2: end at Lap 50
->Admin Caution
-Stage 3: end at Lap 70
->Admin Caution
-Stage 4: Lap 74-89

Alle Fahrer mit einem VO Stockcar Sieg sind qualifziert.
Vier weitere Startplätze werden über das All-Star Open Qualifying vergeben.

Es gibt keiner Sonderregelungen. Es gelten die VO-Regeln.
*Sieger ist der Fahrer mit der besten Platzierung, der im gesamten Rennen keine Gelblichtphase ausgelöst hat.
-----
All drivers with a VO stockcar win are qualified.

Four additional starting spots will be allocated via the All-Star Open Qualifying.

There are no special rules. The VO rules apply.

*Winner is the highest finishing driver who has not triggered a yellow flag in the whole race.

 Qualifizierte Fahrer / Qualified drivers

| | |
| --- | --- |
| Session name: | http://www.virtual-oval.de All-Star |
| Private: | Yes |
| Server: | NL-Ams |
| | |
| License level: | Rookie (1.0) to Pro/WC (4.0) |
| Track: | Charlotte Motor Speedway |
| Configuration: | Oval - 2018 |
| Time Of Day: | 2020-05-16 19:30 1x |
| Car Class: | Hosted All Cars Class |
| Car: | NASCAR Cup Series Toyota Camry |
| Max Fuel Fill %: | 100 |
| Weight Penalty KG: | 0 |
| Weight Penalty LBS: | 0 |
| Power Adjust %: | 0.0 |
| Dry Tire Sets: | 4 |
| Car: | NASCAR Cup Series Ford Mustang |
| Max Fuel Fill %: | 100 |
| Weight Penalty KG: | 0 |
| Weight Penalty LBS: | 0 |
| Power Adjust %: | 0.0 |
| Dry Tire Sets: | 4 |
| Car: | NASCAR Cup Series Chevrolet Camaro ZL1 |
| Max Fuel Fill %: | 100 |
| Weight Penalty KG: | 0 |
| Weight Penalty LBS: | 0 |
| Power Adjust %: | 0.0 |
| Dry Tire Sets: | 4 |
| Fixed Setup: | Yes |
| Paint Cars: | No |
| Maximum racers: | 43 |
| Tournament: | No |
| Dynamic Sky: | Yes |
| Temperature: | 78 °F |
| Wind Speed: | N @ 2 MPH |
| Atmosphere: | 55 RH, 0% Fog Cover |
| Skies: | Partly Cloudy |
| Variability: : | 0% , 0% |
| Practice length: | 85 minutes |
| Qualifier length: | 2 laps OR 5 minutes |
| Race length: | 89 laps OR 90 minutes |
| Starting type: | Rolling start |
| Parade lap type: | long |
| Num fast repairs: | 0 |
| Cautions: | Race control (Ovals) + Admin |
| Count caution laps: | Yes |
| Lucky dog: | On |
| Wave arounds: | Yes |
| Restart type: | Double File, Lapped cars to the back |
| Consec. caut. single: | No |
| Green/White/Check: | Disabled |
| Hardcore level: | Disallow all driving aids (but clutch assist OK) |
| Car damage: | On |
| Restrict results: | No |
| Warn incident limit: | No limit |
| DQ incident limit: | No limit |
| Qual scrutiny: | Strict |
| Auto-Clean Marbles: | No |
| Practice: | Automatically Generated |
| Qualify: | Carried over |
| Race: | Carried over |