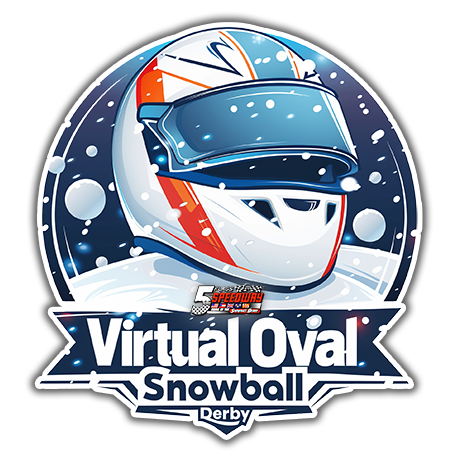 Car: Super Late Model
Track: Five Flags Speedway
Starting spots: 25 (Wer zuerst kommt malt zuerst / first come first serve)
Date: 19.12.2021
Practice: 18:30 cet
Race: 20:00 cet
Length: 300 Laps
Tire Sets: 5

Fixed Setup
-------------------------------------------------
Folgende Fahrer (Anmeldung bis 18.11.2021) sind fürs VO Snowball Derby qualifiziert:
- Aktive Fahrer der Saison 2021-2
- mind. 18 iRacing Rennen bei VO
- FPI <1,0
Übersicht der qualifizierten Fahrer --> LINK
Es gibt keine Sonderregelungen. Es gelten die VO-Regeln.
*Sieger ist der Fahrer mit der besten Platzierung, der im gesamten Rennen keine Gelblichtphase ausgelöst hat.
-------------------------------------------------
The following drivers (Registration until 18.11.2021) are qualified for the VO Snowball Derby:
- active participant of season 2021-2
- at least 18 iRacing races at VO
- FPI <1,0
Overview of qualified drivers --> LINK
There are no special rules. The VO rules apply.
*Winner is the highest finishing driver who has not triggered a yellow flag in the whole race.
------
Im Carupdater gibt es ab jetzt den "VO Snowball Derby - SLM" Cup.
Dort könnt ihr Designs für Rennen hochladen. Es gibt keine VO Decals, also so wie ihr dort hochlädt wird gefahren.
*******
The "VO Snowball Derby - SLM" Cup is now available in the Carupdater.
You can upload designs for races there. There are no VO decals, so the way you upload there is how you race.
*******
La Copa "VO Snowball Derby - SLM" ya está disponible en el Carupdater.
Allí puedes subir diseños para las carreras. No hay calcomanías de VO, así que la forma en que se sube allí es como se corre.
| | |
| --- | --- |
| Session name: | http://www.virtual-oval.de |
| Private: | Yes |
| Server: | DE-Fra |
| | |
| License level: | Rookie (1.0) to Pro/WC (4.0) |
| Track: | Five Flags Speedway |
| Time Of Day: | 2021-12-05 12:30 1x |
| Car Class: | Hosted All Cars Class |
| Car: | Super Late Model |
| Max Fuel Fill %: | 100 |
| Weight Penalty KG: | 0 |
| Weight Penalty LBS: | 0 |
| Power Adjust %: | 0.0 |
| Dry Tire Sets: | unlimited |
| Fixed Setup: | Yes |
| Paint Cars: | No |
| Maximum racers: | 25 |
| AI: | No |
| Tournament: | No |
| Dynamic Sky: | Yes |
| Temperature: | 78 °F |
| Wind Speed: | N @ 2 MPH |
| Atmosphere: | 55 RH, 0% Fog Cover |
| Skies: | Partly Cloudy |
| Variability: : | 0% , 0% |
| Practice length: | 85 minutes |
| Qualifier length: | 2 laps OR 5 minutes |
| Warmup length: | No warmup |
| Race length: | 300 laps OR 210 minutes |
| Start on Q Cmpnd: | Yes |
| Multi Tire Cmpnds: | Yes |
| Starting type: | Rolling start |
| Parade lap type: | long |
| Num fast repairs: | 0 |
| Cautions: | Race control (Ovals) + Admin |
| Count caution laps: | Yes |
| Lucky dog: | On |
| Wave arounds: | Yes |
| Restart type: | Double File, Lapped cars to the back |
| Consec. caut. single: | No |
| Green/White/Check: | Unlimited |
| Hardcore level: | Disallow all driving aids (but clutch assist OK) |
| Car damage: | On |
| Restrict results: | No |
| Warn incident limit: | No limit |
| DQ incident limit: | No limit |
| Qual scrutiny: | Strict |
| Auto-Clean Marbles: | No |
| Practice: | Automatically Generated |
| Qualify: | Carried over |
| Race: | Carried over |