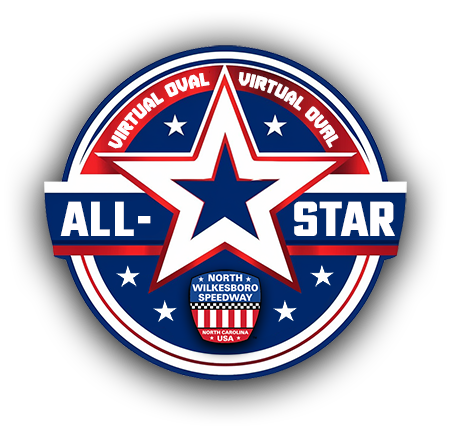 Beim NASCAR Original werden vier zusätzliche Startplätze über das All-Star Open Race (3 Startplätze) und den Fan-Vote (1 Startplatz) vergeben.
Da wir für ein Open-Rennen zu wenige Teilnehmer hätten, werden bei uns alle vier zusätzlichen Startplätze über den Fan-Vote vergeben.
Bei VO bedeutet der "Fan-Vote" = Verlosung
Folgende Fahrer können am "Fan-Vote" teilnehmen:
- kein VO Stockcar Sieg
- mind. 18 iRacing Rennen bei VO
- FPI <1,0
Stand: 22.07.2022
Was musst du tun?
Schreibe einfach deinen Namen in diesen Thread bis Freitag, 29.07.2022 - 22:00 cet, dass du am All-Star Rennen bzw. an der Verlosung teilnehmen möchtest.
Nach dem Ende der Frist werden dann hier Lose eingestellt, die du ziehen kannst.
----
At NASCAR Original, four additional starting places will be awarded via the All-Star Open Race (3 starting places) and the Fan-Vote (1 starting place).
Because we would have too few participants for an open race, we will award all four additional starting places via Fan-Vote.
At VO means "Fan-Vote" = Raffle
The following drivers can take part in the "Fan Vote":
- no VO stock car victory
- at least 18 iRacing races at VO
- FPI <1.0
Status: 22.07.2022
What do you have to do?
Just write your name in this thread by Friday, July 29th, 2022 - 22:00 cet that you want to take part in the All-Star race or in the raffle.
After the end of the deadline, lots will be posted here that you can draw.
---
En NASCAR Original, se otorgarán cuatro lugares de inicio adicionales a través de la carrera abierta All-Star (3 lugares de inicio) y el voto de los fanáticos (1 lugar de inicio).
Dado que tendríamos muy pocos participantes para una carrera abierta, los cuatro lugares de inicio adicionales se otorgarán a través de los votos de los fanáticos.
Con VO, el "voto de los fans" significa sorteo
Los siguientes pilotos pueden participar en el "Fan Vote":
- No gana VO stock car
- al menos 18 carreras de iRacing en VO
- FPI <1.0
Estado: 22/07/2022
¿Que tienes que hacer?
Simplemente escriba su nombre en este hilo antes del viernes 29 de julio de 2022 a las 10:00 p.m. (cet) que le gustaría participar en la carrera All-Star o en la rifa.
Después de la fecha límite, los boletos se publicarán aquí para que los dibujes.