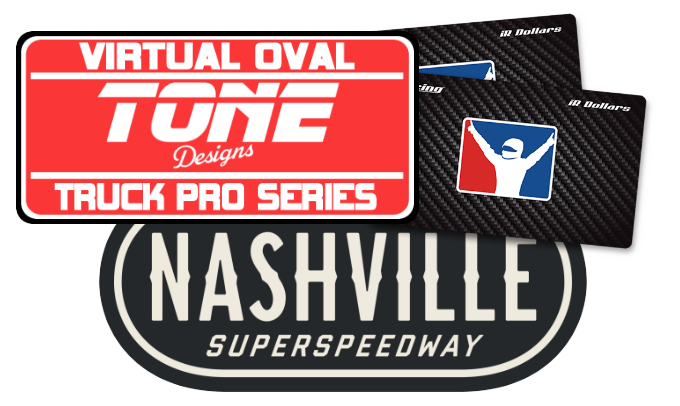 Der Nashville Superspeedway hat für das Saisonfinale der Virtual Oval TONE Designs Truck Pro Series am 07.12.2022 einen besonderen Anreiz zu bieten. Mit etwas Glück und Talent kann ein Teilnehmer bis zu 100 iR$ gewinnen!
Wie das geht? Ganz einfach: Um eine Chance auf den 'Jackpot' zu haben muss man nur bis zum 07.12.2022 13:00 Uhr GMT+1 ein Carfile mit TONE Designs als Hauptsponsor im CarUpdater einreichen. Die Aktion ist mit den Paint-Admins abgeklärt, so dass ausnahmsweise das Carfile gewechselt werden darf. Ansonsten bleibt das Paint-Regelwerk vollständig in Kraft. Darüber hinaus ist die Anlage zur Logo-Platzierung zu beachten. Einschränkungen bzgl. Farben und Gestaltung des Carfiles gibt es nicht.
Die Carfiles werden bis zum Rennen freigegeben, Streamer werden gebeten vor dem Rennen alle Carfiles über den CarUpdater zu aktualisieren. Ich werde keine Carfiles zu diesem Zweck erstellen und bin selber von der Teilnahme ausgeschlossen. (Das blaue Design von Johannes ist ebenso ausgeschlossen, er kann es aber selber modifizieren)
Wie kann man nun etwas gewinnen? Ganz einfach:
1.) Unter allen Fahrern, die mit einem entsprechenden Carfile antreten wird durch Zufall ein Fahrer ermittelt, der 10 iR$ gewinnt.
2.) Sollte ein Fahrer mit TONE Designs als Hauptsponsor das Rennen gewinnen gibt es, unabhängig von der Zufallsauswahl, 20 iR$. Es zählt dabei ausschließlich das Result von iR. Zusätzlich gibt es die 20 iR$ vom ersten Mal und 20 iR$ vom zweiten Mal dazu, die noch vom letzten Mal im "Pott" sind. On Top gibt es dazu noch 30 iR$ vom Saisonfinale 2022-1. (Da ist die Aktion aus persönlichen Gründen ausgefallen)
Macht zusammen 90 iR$ für den Sieg mit einem entsprechenden Carfile.
Sollte das Rennen nicht stattfinden, nicht gewertet werden oder abgebrochen werden müssen, so wird der Saisonstart 2023-1 genutzt.
Eine Sache ist diesmal neu: Da der Preis für den Rennsieg nicht mehr ganz so klein ist, wird der Betrag in jedem Fall ausgezahlt. Sollte kein Fahrer mit einem entsprechenden Carfile das Rennen gewinnen, geht der 'Jackpot' vollständig an eine wohltätige Organisation.
Ich wünsche allen Teilnehmern viel Glück.
=================================================================
The Nashville Superspeedway has a special incentive to offer for the season finale of the Virtual Oval TONE Designs Truck Pro Series on December 7th, 2021. With a little luck and talent, a participant can win up to iR$ 100!
How it works? Quite simple: To have a chance at the 'jackpot' you only have to submit a carfile with TONE Designs as the main sponsor in the CarUpdater by December
78th, 2021 1:00 p.m. GMT+1. The action has been clarified with the paint admins so that, as an exception, the carfile may be changed. Otherwise, the paint rules will remain in full force. In addition, the appendix for placing the logo must be observed. There are no restrictions regarding the colors and design of the carfile.
The carfiles are released until the race, streamers are asked to update all carfiles via the CarUpdater before the race. I will not create any carfiles for this purpose and I'm excluded from participating.
How can you win something now? Very easily:
1.) Among all drivers who compete with a corresponding carfile, a driver will be determined by random draw who wins iR$ 10.
2.) If a driver with TONE Designs as the main sponsor wins the race, regardless of the random draw, iR$ 20 will be awarded. Only the result of iR counts. Additional there are iR$ 20 from the first and iR$ 20 from the second event to grab. On top of that there are 30 iR$ from the 2022-1 season finale. (The event was not held for personal reasons)
Overall that makes iR$ 90 for the win with the corresponding carfile.
If the race does not take place, is not scored or has to be canceled, the season start 2022-2 will be used.
One thing is new this time: Since the price for winning the race is not that small anymore, the amount will be paid out in any case. If no driver with the appropriate Carfile wins the race, the 'jackpot' goes entirely to a charitable organization.
I wish all participants good luck.
-------------------------------------------------------------------------------------------------------------------
Anlage:
Die TONE Designs Logos sind zwingend entsprechend der folgenden Vorlagen für die einzelnen Fahrzeuge zu nutzen. Die Logos können farblich geändert, aber ansonsten weder in Form, noch Platzierung geändert werden. Und bitte bedenkt weiterhin, dass alle sonstigen VO Design Regeln unverändert gelten.
Appendix:
The TONE Designs logos must be used for the individual vehicles in accordance with the following templates. The colors of the logos can be changed, but otherwise neither their shape nor their placement can be changed. And please keep in mind that all other VO design rules still apply.
===========================================================
Für die Zufallsauswahl ist eine Datei angehangen. In der Datei sind alle Teilnehmer aufgeführt und ihnen wurde eine zufällige Zahl von 1 bis 8 zugeordnet.
Die erste natürlich Zahl zwischen 1 und 8, die hier nach dem Rennen gepostet wird, bestimmt den Gewinner von 10 $iR. Danach wird das Passwort verraten, so dass sich jeder die Datei auch anschauen kann.

A file is attached for random selection. All participants are listed in the file and assigned a random number from 1 to 8.
The first natural number between 1 and 8 posted after the race here will determine the winner of $10iR. After that, the password will be revealed so that anyone can view the file.