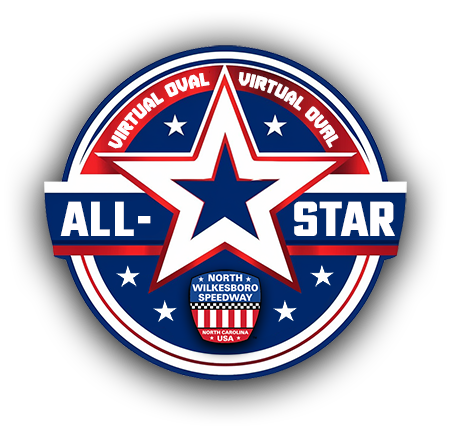 Raceformat:
Practice: 18:30 cet
Race: 20:00 cet
-Stage 1: end at Lap 30
->Admin Caution
-Stage 2: end at Lap 50
->Admin Caution
-Stage 3: end at Lap 70
->Admin Caution
-Stage 4: Lap 74-89

Alle Fahrer mit einem VO Stockcar Sieg sind qualifziert.
Vier weitere Startplätze werden am Renntag für nicht qualifizierte Fahrer ab 18 Uhr verlost.

Es gibt keiner Sonderregelungen. Es gelten die VO-Regeln.
*Sieger ist der Fahrer mit der besten Platzierung, der im gesamten Rennen keine Gelblichtphase ausgelöst hat.
-----
All drivers with a VO stockcar win are qualified.

Four more starting places will be raffled for non-qualified drivers on race day from 18:00 cet.

There are no special rules. The VO rules apply.

*Winner is the highest finishing driver who has not triggered a yellow flag in the whole race.

 Qualifizierte Fahrer / Qualified drivers

Session name:
http://www.virtual-oval.de
Private:
Yes
Server:
NL-Ams


Track:
Charlotte Motor Speedway
Configuration:
Oval
Time Of Day:
2019-05-18 19:30 1x
Car Class:
Hosted All Cars Class
Car:
NASCAR Monster Energy Cup Toyota Camry
Max Fuel Fill %:
100
Weight Penalty KG:
0.0
Weight Penalty LBS:
0
Car:
NASCAR Monster Energy Ford Mustang
Max Fuel Fill %:
100
Weight Penalty KG:
0.0
Weight Penalty LBS:
0
Car:
NASCAR Monster Energy Cup Chevrolet Camaro ZL1
Max Fuel Fill %:
100
Weight Penalty KG:
0.0
Weight Penalty LBS:
0
Fixed Setup:
Yes
Paint Cars:
No
Maximum racers:
40
Tournament:
No
Dynamic Sky:
Yes
Temperature:
78 °F
Wind Speed:
N @ 2 MPH
Atmosphere:
55 RH, 0% Fog Cover
Skies:
Partly Cloudy
Practice length:
85 minutes
Qualifier length:
2 laps OR 5 minutes
Race length:
89 laps OR 150 minutes
Starting type:
Rolling start
Num fast repairs:
0
Cautions:
Race control (Ovals) + Admin
Lucky dog:
On
Restart type:
Double File, Lapped cars to the back
Green/White/Check:
Unlimited
Hardcore level:
Disallow all driving aids (but clutch assist OK)
Car damage:
On
Restrict results:
No
Incident limit:
No limit
Auto-Clean Marbles:
No
Practice:
Automatically Generated
Qualify:
Carried over
Race:
Carried over